Solid Wood Bunkie Board For Your Bedroom
Mattresses are a true investment when it comes to bedroom setup. They are your long-term partner that helps you get that amazing goodnight's sleep after a tiring day. But howsoever good and quality grade your mattress might be, if the foundation for the same is not solid, it won't provide the necessary comfort.
Most people end up spending a huge amount of money to strengthen the foundation of their bed. However, there is a much more convenient and economical way to achieve the same; Bunkie boards. Bunkie boards make the perfect choice for resolving the annoying mattress sinking problem.
Here you will find a detailed review of the Best Bunkie Board in the market and how to make an apt choice for your suiting.
---
What is a Bunkie Board?
Bunkie boards are a layer of planks or slats that help in strengthening the foundation for your mattress. They are adjusted in the bed frame, underneath the mattress, to support the structure while you sleep. It can also be used directly on the floor if you prefer utilizing the benefits of sleeping on the floor.
An average Bunkie board can be about 1 to 3 inches thick. You can find both king and queen-sized Bunkie board depending on your requirement maybe.
A Bunkie board fits perfectly under the mattress without raising it higher than the normal level. They are suitable to go with straight or bent slats of a bed frame.
You will find a huge range of Bunkie boards in the market. This can complicate the entire decision-making process, and you might end up buying something that doesn't meet your expected requirements.
Here are the 5 best Bunkie boards that you can consider before narrowing down your final choice.
---
Why Do You Need The Best Bunkie Boards?
Bunkie boards aren't just an addition to your bed frame. They have several benefits associated with them.
Bunkie beds are a popular choice amongst people who are looking for an affordable option to fix their old and weak bed. They provide great support to the mattress and prevent it from sagging beyond the comfort level.
It can also be used as a support for a mattress that has suffered a lot of wear and tear but still offers a good night's sleep. It is a perfect fix for adding an additional innerspring to your bed without bearing heavy costs. Many people do not understand the importance of airing the mattress, and they ignore this aspect completely. As a result, a brand-new mattress ends up developing a bad odour in a short period of time.
Using a Bunkie board can provide a channel that allows a continuous flow of air through the mattress. This will help you save time in airing the mattress outside the house and prevent the mattress from stinking up quickly.
Bunkie boards can also provide a better grip on your mattress. Some bards come with a layer of fabric that is tenacious in nature. It helps increase the friction between the mattress and the board, thus preventing any type of slippage or movement. A lot of people complain about restless and broken sleep. There can be a lot of factors affecting the same. One of the prime reasons is a problematic mattress. A mattress that is unable to provide support or moves a lot while sleeping can cause irregular nap cycles. This becomes worse for those who are light sleepers.
Using a Bunkie board adds firmness to the entire bedding. Your mattress stays comfortably in one place, and the movement is restricted due to the firmness offered by the board. Bunkie boards are a great choice for any type of sleeper. You might be an active sleeper or a light sleeper. You might be heavy, light, tall, or petite. It does not matter! A Bunkie board will provide you the sleep that you deserve.
How Much Are Bunkie Boards?
Bunkie board costs typically range between $50 and $150. It's a relatively inexpensive approach of boosting one's comfort or extending the life of a mattress.
The price is typically determined by the materials used and the reputation of the brand. Customers should keep in mind, however, that larger bunkie board sizes normally cost more.
---
Quick Look
Name
Rating
1.

Editor's Choice

Zinus Gulzar
(4.6 / 5)
Check price
2.
Zinus Annemarie
(4.5 / 5)
Check price
3.
ZINUS Vertical Wood Support Slats for Bed Frame
(4.3 / 5)
Check price
4.
Onetan Split Fully Assembled Bunkie Board For Mattress/Bed Support
(4.2 / 5)
Check price
5.
Classic Brands Xtreme Bunkie Board
(4 / 5)
Check price
---
Which Bunkie Board Material is Good?
If you explore the Bunkie boards market, you will find wood and steel is the common choice for construction. The quality and sturdiness of the type of wood and metal used are different for different materials.
Pinewood
When it comes to furniture, pinewood is a strong and durable choice. The slats made from pine wood will be very sturdy and provide the strength to hold a heavy mattress. It might be a costlier option for a few, but it is a lifetime investment. Using wood for furniture provides a certain level of warmth that cannot be replaced by any other material.
Plywood
Plywood makes a cheaper option for the ones who prefer a solid wood Bunkie board but are a bit tight on budget. They are cheaper yet durable options as they provide a similar bounce and strength to the mattress. It won't provide a weight capacity as strong as pinewood or steel, but it will provide you the warmth and support of wood.
Steel
Steel is yet another great choice for a quality Bunkie board. Steel Bunkie boards have a very long life as they can resist moisture and temperature damage. They can hold more weight than any other material with stability and strength. A steel Bunkie bed provides a superior level of comfort and support that a wooden board might not be able to deliver.
However, with steel boards, you might face squeaking issues over time. You will also have to invest in some type of foaming or tape to prevent the mattress from sliding from it.
Metal alloys
Metal alloys are also a popular option for Bunkie boards. They are like a cheaper alternative to steel. However, the quality of the finished product might be a bit compromised as one is unaware of the effects the alloy metals might have.
---
Best Bunkie Boards
Editor's Choice

1. Zinus Gulzar
The Zinus Gulzar is one of the top-quality Bunkie board choices for those looking for a metal option. This Bunkie board is made of superior quality steel. As a result, you can enjoy the support and durability of this board's frame for eternity.
This Bunkie board offers its users two options. One is with foam padding that makes a perfect choice for sensitive sleepers. Another option is the anti-slip tape that keeps the mattress firmly in one place and prevents it from moving. This option makes a perfect choice for active sleepers.
This board requires some assembly after unboxing. However, it is not a complicated process and can be completed in a jiffy. It comes with 14 slants that have a quick lock construction on both ends. So, all you are required to do is snap it on both ends, and voila! Your board is ready for use.
The slants on this Bunkie board are not joined together. Instead, they have spaces between them. These spaces might appear wider for a few, but in fact, they won't create any trouble. Your mattress, even if it is made of foam, will lie straight on the board and won't sink through the slant slits.
With the qualities and features that this mattress has to offer, this a universal choice for any type of sleeper. The material used, the reliability, support, and durability of steel make it a perfect option for a long-term investment.
We love:
Quality grade steel construction with easy assembly, made for both active and light sleepers, it can firmly hold heavy weight mattresses without sinking.
To consider:
It can appear inconsistent with a standard bed size, also might squeak with prolonged use.
Currently Available On "Amazon"
---
2. Zinus Annemarie
Zinus Annemarie's solid wood Bunkie board deserves to be on the top of the lost because of the exemplary feature that this product has to offer. It meets all the basic requirements of a Bunkie board and more. It tops in every aspect be its durability, longevity, support, and reasonable pricing.
This Bunkie bed is made with pine wood, one of the hardest and strongest woods used for furniture making. It is blended with polyester fabric that makes the board top tenacious. This helps in preventing the mattress from slipping due to movement. A queen-sized Bunkie board full will have 10 slats that are about 4 inches thick.
The high durability of the slacks makes them a great support system for any type of mattress. It makes a perfect choice for a bed that has suffered serious damage to the mattress foundation and needs intensive repair. The quality-grade woods of the slacks help them hold even bulky beds with ease.
It also comes with anti-sagging properties providing a solid foundation that stays firm and strong. It is perfect for supporting any type of mattress, being it foam, feather, or any synthetic material, including latex.
Another highlight of this amazing bunkie board is that it does not require any assembly on delivery. All you have to do is unpack, unroll, and enjoy the comfort that it brings along. The superior quality of this bunkie board that comes at an affordable price will make you fall in love with the same in no time.
We love:
Budget-friendly pick made of solid wood with zero assembly requirement. It is perfect for old deteriorating beds.
Tenacious fabric cover to prevent slippage of mattress support heavy hybrid mattresses.
To consider:
Size might be short for a few. This board can flex, so might require an additional support.
Currently Available On "Amazon"
---
3. ZINUS Vertical Wood Support Slats for Bed Frame
Adrianne by Zinus is yet another great pick for the people who prefer a wooden Bunkie board. The manufacturer has designed this board for the customers who like to rearrange their furniture every now and then. The construction of this board makes it convenient to move it around with ease.
The slats of this wooden Bunkie board are linked to each other with the help of Velcro. Therefore, its use is not just restricted to a bed; you can also use it on the floor or on a sofa bed. It requires no assembly at all and can be used straight out of the box when it arrives. The slats are lightweight yet sturdy as they are made of plywood.
It is a huge space saver, especially for those living in a small space. The simple, reliable, and flexible construction of the board helps you roll it up and keep it away whenever not needed. You can convert your bedroom into a living room in no time with this Bunkie bed.
There is, however, a slight disadvantage of the plywood used in the making of slants. It can rub against the mattress with regular use and cause some amount of wear over time. Therefore, you will be required to cover the Bunkie board with a layer of fabric to avoid damage due to friction.
We love:
Lightweight and durable Plywood stats with zero assembly requirement.
Easy to move space-saving Bunkie board ideal for all bed types.
To consider:
Might lack enough support for heavy sleepers also slacks might move, making it unsuitable for active sleepers
Currently Available On "Amazon"
---
4. Onetan Split Fully Assembled Bunkie Board For Mattress/Bed Support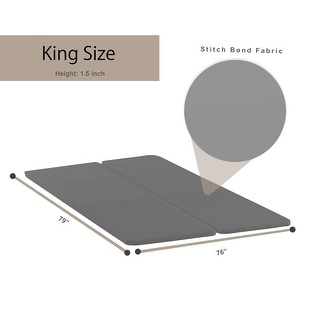 The wooden Bunkie bed from Spinal Solution makes a suitable choice for people looking for a sturdier support option. It comes with a solid wood design with a strong construction that provides your mattress with the support it needs.
It adds a firm feel to your mattress and can be used in any type of bed box. You can even use it to make your mattress slightly higher than its usual height.
A characteristic feature of this Bunkie bed is that it can split into two halves. As a result, you can break it and store it if you have a space crunch. It also makes carrying the board easier when you travel make rearrangements.
The board comes with a layer of fabric that is stitched around it, providing an outer covering layer. The benefit of this fabric cover is that it provides a firm grip for the mattress to stick to the board and not move or slip easily.
This Bunkie bed is about 1.5 inches thick. It offers a perfect thickness to raise your mattress to a regular height and not make it look awkward. It makes a great choice for a variety of sleepers, be it small, tall, heavy, or light.
Highlights
Splits into two halves proving easy movement and storage
Fabric cover for better gripping
We love:
Splits into two halves proving easy movement and storage and fabric cover for better gripping.
This is a great choice for active or restless sleepers and a sturdy choice for raising the mattress higher.
To consider:
Width might be an issue with some beds.
Currently Available On "Overstock"
---
Cal King

5. Classic Brands Xtreme Bunkie Board
The Classic Brands Xtreme is yet another great choice when it comes to solid wood Bunkie boards. The quality of wood used in the construction provides it with an amazing core strength that not just provides quality support but also helps in shock absorption.
The slats of this board are tied together using a string of wide rubber. As a result, all you have to do is place the board on the frame of your, and it will automatically adjust itself securely. Cover it up with your mattress, and you are good to go for a perfect night's sleep.
This Bunkie board promises extra durability and strength and can carry heavy loads without any cracks or breaks. Therefore, it makes a perfect choice for those who are own heavy mattresses that are made of hybrid material or latex mattresses.
The manufacturer of this Bunkie board recommends their prospective buyers to measure the inner perimeter of their beds before making a purchase. A lot of customers do the mistake of measuring the outside perimeter. As a result, you end up buying a bigger board that won't fit the bed frame.
The Classic Brands Xtreme is a perfect option for people who are looking for a simple Bunkie board that gets the job done. It has come with no fuss and is perfect for creating a strong foundation for any type of mattress.
We love:
Solid grip wood for active sleepers, tenacious wood to prevent mattress slippage perfect for ones owning coil mattresses.
With shock absorption ability quieter than a metal frame a good choice for sensitive sleepers, requires no assembly.
To consider:
Unfinished wood, some people says that dimensions can be inconsistent
Currently Available On "Amazon"
---
FAQs
---
To sum it up
A supportive bed frame can do wonders for your sleep and a happy mood the next day. Investing in proper bedding can never go to waste. Even if you are a bit low on cash, you can still make some quality improvements using a superior grade Bunkie board.
Bunkie Boards the most affordable and effective way of achieving a good night's sleep. After finalizing your requirements based on size, shape, weight, and material, you can buy a perfect Bunkie board. It will provide your mattress with immense support, and you will be saved from burning a hole in your pocket.
Before making the purchase, keep in mind what our requirements are. Every person has different needs and judgment parameters when it comes to bedding. With this, thorough review you can select a well-suited option for yourself and make help yourself to a nice and peaceful sleep.
---
Fan of good quality sleeping and WordPress platform 🙂 Shopping is also my passion, that is why this article was created especially for you. Find out how you can sleep like a king and not overpay.