Mattress Topper For Back Pain
Are lower back pains making your life miserable? Does backache disturb your sleep at night? Then it's time you took this situation seriously.
One of the foremost ways to take better care of your lower back is to make sure your bedding offers you the utmost comfort. If it isn't, you can add a mattress topper to your bed to make it comfier.
Buying a good mattress topper is a great way to improve your bed's quality without buying a new one.
The extra cushioning will support your lower back and help prevent aches.
If you're looking for the best mattress topper for back pain, this product guide will help you pick one that suits you.
---
Things To Consider Before Buying A Mattress Topper For Back Pain
When you start searching online, you'll find a plethora of options for mattress toppers. As these products are designed to adjust the mattress surface's feel, you need to keep in mind certain factors in choosing the right product for you. This buyer's guide will let you make the right purchase.
The mattress topper material will determine its durability and comfort. Expensive mattress toppers have quality materials that add a little more bounce and softness to your mattress. For example, latex is famous for being long-lasting and highly breathable. It has a low point elasticity and cradles your body when you sleep, increasing the back's support.
Memory Foam is another quality material that offers good back support and pressure relief. It also keeps you comfortable during the heat, as some models have a unique cooling mechanism. If you're looking for a more affordable option, go for Polyfoam toppers. These are very breathable and comfy.
Any mattress topper's thickness will decide how well it will modify the sleep surface or your mattress. The thickness usually ranges from 1 to 4 inches. If you get a thin topper, you'll get a little bit of cushioning on your existing mattress.
On the other hand, if you get a thicker topper, you'll get better pressure relief, comfort, and body contouring, which will protect your back.
If you're searching for the best mattress topper for lower back pain, you need to check its pressure relief factor. A topper having good pressure-relieving capacity can evenly distribute your weight across the bed when you sleep. It helps to reduce the pressure from building up in the heavier parts of your body – the lower back and shoulders.
A thick mattress topper with better pressure relief will support your hips and keep back problems away.
Most toppers come with some added conforming that allows them to hug the shape of your body while you sleep. This feature enables your heavier and wider body parts, such as the hips, to sink in more into the mattress. It also supports the shape of your spine.
Thicker mattress toppers have more conforming capacity than thinner ones. So, if conforming is a top priority, avoid buying delicate toppers.
This quality of the mattress topper will affect the comfort and support you receive from it. A topper with medium firmness will offer comfort, convenience, and good support to your spine. However, if your mattress is already extra firm, adding a medium-firm topper on it will make it more solid and uncomfortable.
If you have a super soft mattress, topping it with a medium-firm topper will offer you the best spinal support while being comfortable. Similarly, if you have a medium soft mattress, adding a medium-firm topper will be ideal. Read more about mattress firmness.
---
Quick Look
Name
Rating
1.
ELEMUSE Cal King Cooling Mattress Topper
(4.6 / 5)
Check price
2.

Editor's Choice

RECCI 2.5-Inch Mattress Topper
(4.5 / 5)
Check price
3.
Tempur-Pedic TEMPUR Supreme 3-Inch Medium Firm Mattress topper
(4.5 / 5)
Check price
4.
Priage by ZINUS 4 Inch Green Tea Cooling Gel Memory Foam
Mattress Topper
(4.5 / 5)
Check price
5.
ViscoSoft Mattress Topper
(4.4 / 5)
Check price
6.
Select Luxury Restore-a-Mattress 3-inch Memory Foam Mattress Topper
(4.1 / 5)
Check price
7.
Sealy Essentials 3-Inch Firm Support Foam Mattress topper
(3.7 / 5)
Check price
---
When Do You Know It's Time For A New Mattress?   
If you're sleeping on the same mattress for a long time and still experiencing back pains, it means your mattress isn't supporting you properly.
A good mattress is not only a place for sleeping, but it also needs to be good enough to support your lower back. Even if the mattress was initially very comfy, it could get worn out after years of wear and tear.
Take a closer look at your mattress to check whether certain parts are torn or sagging. These are usually the areas that carry your weight. If you think it isn't durable anymore, get a new mattress immediately. Alternatively, adding a high-quality mattress topper can also help you.
---
Can Mattress Toppers Effectively Limit Back Aches?
If your bed is worn out and torn apart beyond repair, a mattress topper won't be enough to get it back in shape. In that case, you have to get yourself a new bed. However, if your existing mattress isn't comfortable enough to support your back, buying a mattress topper will adjust its firmness and help you sleep better.
Besides getting a new mattress topper, try to maintain a good posture when you're awake. Keeping your back straight will help reduce a lot of backaches. Try to maintain your posture while sleeping too.
---
Best Mattress Topper Product Reviews
Now that you know the factors to keep in mind while shopping for a mattress topper let's start looking for the best products. To help you in your search for the best mattress pad for back pain, we have listed some fantastic products you have to check out.
1. ELEMUSE Cal King Cooling Mattress Topper
This mattress topper is designed for improving your sleep quality and comfort quotient of your mattress. It is soft, supportive, and suitable for use through all seasons conveniently. Crafted with 100 % pure cotton and 3D snow down alternative filling, this is one of the softest toppers you'll ever find. It's breathable, allowing you to stay cool all night long even when the mercury is rising fast.
The topper is so comfortable; you're bound to wake up fresh after a fantastic sleep! Its material is hypoallergenic and gentle to the skin. This feature makes it great for people with sensitive skin, as it's not made with any chemicals.
As the topper is extra thick and soft, it can soften your mattress and make it comfy if you think it's too firm for you—the added layer of cushioning comforts your back, reducing body pains and spinal cramps.
We love:
Easily machine washable, and you can clean it with mild detergent and cold water
Elegant box stitch design that can conveniently fit any mattress
Padding and cushioning to reduce backaches
No odor, stains, and completely hypoallergenic, making it excellent for users with sensitive skin
To consider:
It doesn't come with a topper cover
Currently Available On "Amazon"
---
Editor's Choice

2. RECCI 2.5-Inch Mattress Topper
If you're looking for the best memory foam mattress topper for back pain, you need to take a look at this. This 2.5-inch memory foam topper can give you the comfort you've been longing for in your existing mattress. It boasts of being capable of softening your hard mattress, enhancing an old one, or prolonging your current mattress.
As it is designed with special memory foam, it can easily conform to your body, allowing you to sleep better. The design supports all types of sleepers – back, stomach, and side. It cuddles your body shape in such a way that the added pressure is relieved from your pressure points. Moreover, it offers better contouring, so it supports your spine's natural arc and helps to remove fatigue.
This gel-infused mattress topper keeps your body cool and prevents the mattress from overheating at night. Plus, the high-quality design ensures the topper stays in place and fits any mattress conveniently.
We love:
Enhanced design to keep motion transfer and disturbances at a minimum
2.5-inch memory foam relieves pressure and increases comfort
It keeps you cool all night
Easy to set up with the existing mattress
To consider:
Not very comfortable for users weighing over 200 lbs
Currently Available On "Amazon"
---
3. Tempur-Pedic TEMPUR Supreme 3-Inch Medium Firm Mattress topper
Another remarkable memory foam product, this mattress topper, is designed to provide you maximum pressure relief. The topper is crafted with a unique TEMPUR material that hugs your body gently, offering you a more comfortable sleep at night. The memory foam distributes your bodyweight uniformly all over the mattress, releasing the pressure buildup in your back or neck.
As this topper has a medium-firm thickness level, it can provide excellent support for your back and spinal arc. It will be a delight for back sleepers! Along with that, the topper also reduces motion transfer and vibrations when someone else is on the bed with you.
The topper is engineered to keep you comfy throughout the night, thus helping in reducing sleep problems. Furthermore, it is easily removable and machine washable so that you can bid farewell to dirt and dust allergies.
We love:
The topper is designed to last for years and is of high-quality
Best for light sleepers, as it minimizes motion transfer
Easy to clean and maintain
Easily adapts to your body shape and weight, providing you utmost comfort and back support
To consider:
It doesn't work well with mattresses that are too soft
Currently Available On "Amazon"
---
4. Priage by ZINUS 4 Inch Green Tea Cooling Gel Memory Foam Mattress Topper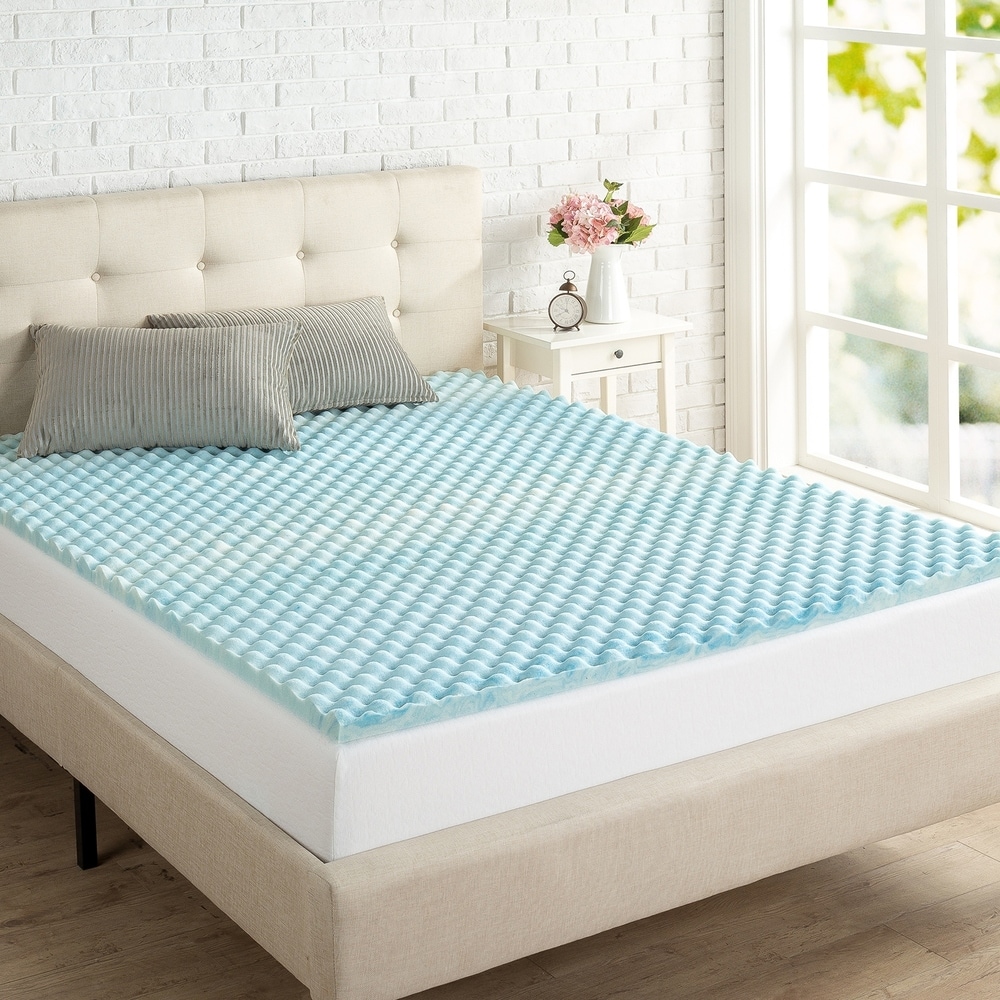 This green tea memory foam topper is designed with thermo-regulating gel, which keeps you cool at night, offering you a comfortable and uninterrupted sleep. Besides keeping you super cool, this mattress topper comes with an ultra-soft memory foam that helps you sleep like a baby. So, with high-quality sleep, you wake up fully energized and refreshed in the morning.
The premium quality memory foam cradles your body shape when you sleep. It helps you de-stress after a tiring day and relieves the tension built up in your pressure points, especially your hip and back. Therefore, even if you go to sleep with body aches, you'll get up pain-free!
The best part? This mattress topper is crafted with green tea extracts and charcoal. So, you'll never experience any foul or pungent odors, and your mattress will always remain fresh. What about the looks? It excels in that department as well. This topper comes with a sea blue and cream combination so that it can raise the style quotient of your mattress too.
We love:
This high-quality mattress topper comes with a limited warranty of 5 years
Excellent green tea cooling foam for maximum comfort all night long
The topper is CertiPUR US Certified for performance and durability
It comes with excellent packaging and is ready to use within 72 hours
To consider:
The material isn't hypoallergenic
Currently Available On "Overstock"
---
5. ViscoSoft Mattress Topper
No matter if your current mattress has become old or you want an upgrade, the Viscosoft mattress topper is the best solution. Made of high-density foam that offers excellent pressure relief when you sleep, it's highly breathable and keeps you cool during hot summer nights. It has a pillow top cover that inserts an additional layer between your body and the memory foam for calming your body.
The topper's high-quality foam offers body contouring and cradles your body's shape. Its dual-layer adds more comfort to the existing mattress while cushioning your back and neck as well. This feature helps in keeping lower back pains and cramps at bay. Moreover, this layer also holds the memory foam together, and the elastic prevents it from sliding away when you sleep on it.
You can easily remove the product's pillow top cover and wash it. This feature increases its longevity and hygiene.
We love:
2.5-inch memory gel foam and 100 % cotton materials offer maximum comfort and support the back
The dual-layer design has straps on each corner that holds the mattress topper in place that prevents sliding
High-quality and durable product
The design reduces motion transfer and enhances comfort
To consider:
The topper may get a little warm at times
Currently Available On "Amazon"
---
6. Select Luxury Restore-a-Mattress 3-inch Memory Foam Mattress Topper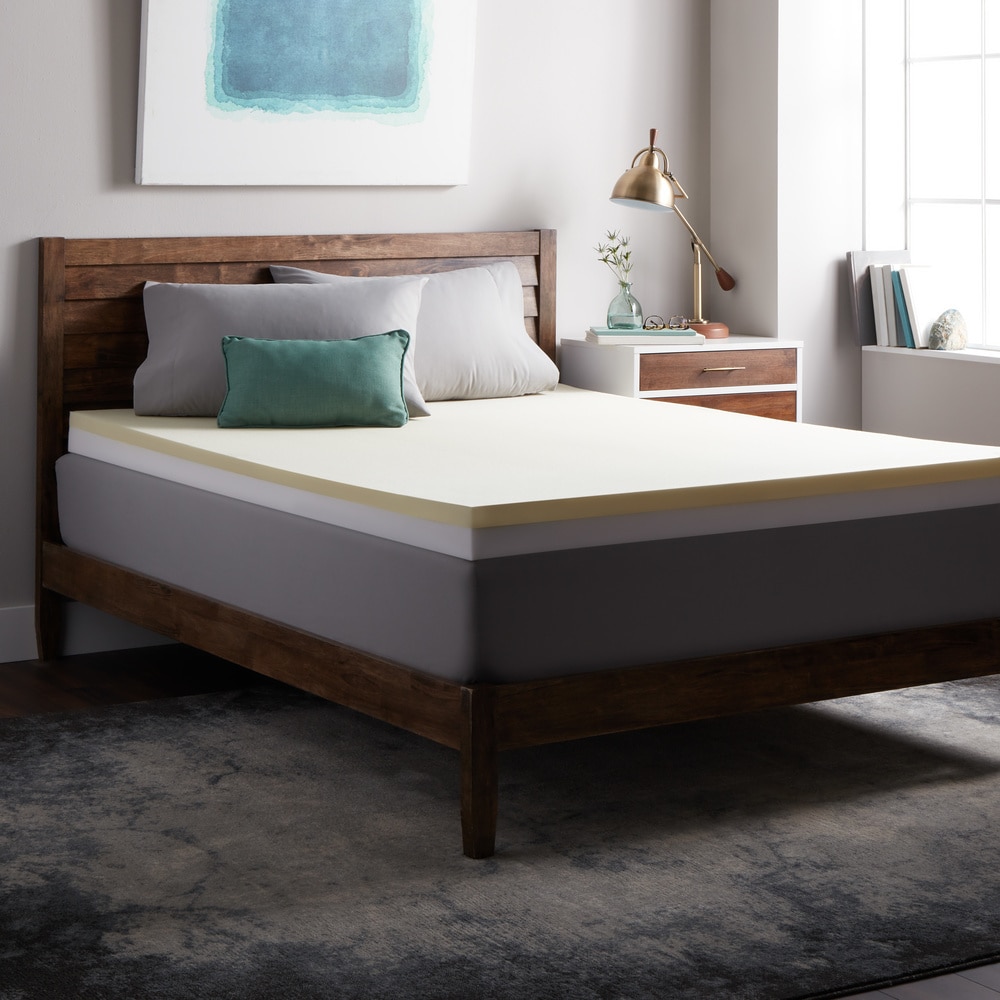 Yet another mattress topper made of memory foam, the Select Luxury Restore topper, is designed to take your existing mattress's comfort to another level. It has a wonderful combination of memory foam and gel, so your back and spine are in good hands. The 1-inch memory foam and 2 inches of density foam enhance the comfort level of your current mattress so that you can sleep peacefully.
If your mattress is too firm, this topper's combo gel foam will add the extra layer of softness you need to alleviate back pain and body aches. The memory foam reduces the pressure points of your body and keeps you well rested at night. Mornings will be better undoubtedly!
What's more? The topper's high-quality material is free from dirt, dust and is hypoallergenic. So, no more worrying about dust allergies and skin infections. That's why people with sensitive skin love using this mattress topper along with their mattresses. Therefore, be it an old uncomfortable mattress or a new one, this topper will work with anything like a charm.
We love:
The topper is designed to be a bit smaller than your mattress to offer a snug fit every time
It is designed with polyurethane for making it last for years
Combo gel foam helps reduce back problems
Suitable for people with sensitive skin
To consider:
Might have some odor issues
Currently Available On "Overstock"
---
7. Sealy Essentials 3-Inch Firm Support Foam Mattress topper
This product is one of the best firm mattress toppers for back pain. Whether you have a too old or very uncomfortable mattress, this topper will give you the extra comfort you always wanted. As the product has a firm thickness level, it will instantly convert an extra soft mattress into one that protects your back when you sleep.
It looks good too! The mattress topper can quickly add more life to your boring bedroom and mattress. You can also use it for furnishing the mattress for your guestroom. Offering so much comfort and breathability, you'll get a fantastic good night's sleep anywhere you use it.
The topper comes with a comfortable cover that is easy to remove and clean. It is this cover that keeps the topper in one place all night, even if you toss and turn too much. However, it is so durable that you can keep using it for years, with just a little bit of maintenance.
We love:
3-inch mattress topper with a firm thickness level for maximum support to your lower back
High-quality and long-lasting material
Easily removable and washable cover keeps the topper clean
Ideal for pairing with soft mattresses
To consider:
No feature to keep you cool while sleeping
Currently Available On "Amazon"
---
FAQs
---
Wrapping Up
Lower back pain and body aches can be frustrating, especially when you have an essential day. It might ruin your entire day. So, before things get worse, buy a high-quality mattress topper to support your back and spine. Be it a foam or latex mattress topper for back pain, it will include an additional layer of padding to your existing mattress and help you eliminate these aches.
Although all mattress toppers seem outstanding, you need to choose it, keeping your existing mattress in mind. If you have an old mattress, you can try out a firm and thick mattress topper. For those who suffer from skin allergies, buy a topper that is crafted with hypoallergenic material. Check out our product reviews and buyer's guide to make a well-informed decision.
---
Fan of good quality sleeping and WordPress platform 🙂 Shopping is also my passion, that is why this article was created especially for you. Find out how you can sleep like a king and not overpay.