Mattress Topper For Hip Pain
It can be difficult for side sleepers to get into a comfortable position if the mattress is too hard as it doesn't form around your body's natural shape. You can experience hip pain, lower back pain, and even pain in your shoulders. To alleviate that pain, you can choose a memory foam mattress topper so that you do not need to replace your existing mattress completely.
A mattress topper helps change the mattress's texture. Even if your requirements change, you do not need a brand new mattress every time. To help with the sudden temperature changes when going from summer to winter, you can use a mattress topper to create a balance.
---
What Should You Consider When Buying A Mattress Topper?
With such a variety of mattress toppers on the market, it can be difficult to know what material provides the best comfort and breathability. Memory foam and gel-infused have quickly become the most popular and are regularly proven to be the most effective for side sleepers. They can help relieve the pressure between your joints and disperse your weight evenly for a weightless night.
Latex is also an alternative material commonly used, especially natural latex, for those that would like an eco-friendly and completely natural material. You will find gel and latex mattresses in our other article – best mattress topper for California king bed.
Thickness is entirely personal as the height you need entirely depends on your preference and sometimes weight. As a side sleeper, your weight is less evenly dispersed, so with a heavier weight, and you are more likely to feel the surface beneath. Mattress toppers typically come in 2-4 inch sizes; 2 inches is considered light support. Depending on your pain and needs, you may want to push for 4 inches as it will fully relieve any pressure.
If you are just looking to freshen up your existing mattress, then a 2-inch mattress topper should provide enough support for that new feeling.
An average warranty for a mattress topper is 3-years, but you can get longer depending on the company. Some brands now offer a sleep-trial so that you can make sure it helps you get a better night's sleep. If it doesn't, you can return it within the time frame for a full refund.
---
Quick Look
---
How To Alleviate Discomfort Or Pain As A Side Sleeper
Sleeping on the side of the body can be extremely comfortable for some and possibly the only way of being able to slip into a good night's sleep. However, as it is not the easiest position to get comfortable in, there are some tricks to optimizing comfort on your side. These can also help reduce hip and shoulder pain.
Before delving into some positions, you first need a good base. By choosing a memory foam topped mattress or a mattress topper, you can sculpt your environment to your body.
It is often recommended that a medium to firm mattress is the best for your body, but it then causes the age-long question of 'where do I put my arm?'. By using memory foam to support your body, you can lay with your arm and legs in the most comfortable position and let the topper do the rest of the work.
An overlooked feature can be the breathability of your mattress or topper. By choosing a gel-infused or ventilated design, you can regulate your body temperature just from lying in bed. The gel encourages air to flow through the fibers and retains the cool breeze while equally dispersing your body heat away from you.
A firmer pillow will help keep your spine in alignment all night. In turn, this will reduce the pressure on your neck and shoulders, which can lead to fewer pressure headaches and shoulder pain.
Straining your spine with a pillow that is too thin or too soft will cause more problems the longer it remains unsupported. As a side sleeper, your head and neck need more support than in any other sleeping position. We recommend using a pillow for the stomach or back sleeper.
A common issue of side sleeping is your hips are misaligned, and this causes aches. In worst cases amongst the younger generation, it can cause growth issues.
This can be fixed with a very simple solution. Place a pillow between your legs so that your hips lay parallel to each other.
Putting a Mattress Topper On
Most mattress toppers are constructed in the same way, however, some may take substantially longer to complete. When you open one, you'll note that the cap seems shallower in depth than it does in photographs. This isn't by chance. The topping must be allowed to deflate until it can no longer extend. The usual wait time is three to four hours, while the best results may take longer. When it's approximately three inches thick, you'll know it's finished deflating, and you'll be able to sit on top of it.
Cleaning Your Topper
Mattress toppers have a machine-washable outer covering. Many of them are made of fabric that is intended to prevent the transmission of viruses and infections. Wash them in the same manner as your comforter, being sure to only place them back on the memory foam or gel after they are completely dry. Read cleaning memory foam guide.
Some covers may last longer if washed by hand. When in doubt, follow the manufacturer's washing instructions.
To clean the foam, use a moist cloth to gently remove any apparent debris.
But, if you really want to be wise, I recommend investing in a mattress cover, which will keep your new mattress topper clean, dry, and sanitary for as long as possible.
How Much Should a Mattress Topper for Side Sleepers Cost?
Most high-quality mattress toppers for side sleepers now cost between $150 and $400. It is possible to get devices for less than $150-100, but customers should not expect them to last very long.
When it comes to toppers, buyers typically get what they pay for. As a result, purchasing something too inexpensive will almost certainly result in inferior quality.
Furthermore, side sleepers may wind up paying a little more because this sleeping pattern need additional padding. As a result, the topping must be rather thick. Furthermore, thicker versions require more material, which increases the price.
---
Best Memory Foam Mattress Toppers For Side Sleepers
1. HYLEORY Mattress Topper Deep Pocket with Snow Down Alternative
This plump mattress topper will attach directly to your mattress from an 8-inch thickness to a 21-inch thickness. HYLEORY has used a quilted design to create an even and consistent texture throughout. The pillowtop is a Snow Down alternative for a skin-friendlier environment, and it will protect against perspiration, stains, and pet dander. It is completely machine washable, so you can always get into those perfect freshly washed sheets.
Using HNN technology, this microfiber mattress topper will keep you cool and relaxed. By overfilling with a 4D spiral fiber, it is the best memory foam mattress topper for side sleepers as it provides protection and comfort on all joints.
Materials:
Microfiber stuffing for a lightweight, breathable feature
Snow Down alternative pillowtop
We love:
It fits an 8-inch to 21-inch deep mattress
Overfilled 4D fibers to maximum comfort
Snow Down alternative for fewer allergens
Machine Washable and Tumble Drier safe
To consider:
It might be too thin for some side sleepers
Currently Available On "Amazon"
---
2. Sweetnight Waterproof Mattress Topper
If you run hot during the night, this could be the best mattress topper for side sleepers with hip pain or without. The waterproof layer will prevent any stains from perspiration and spills, and it is made from bamboo fibers and a waterproof TPU layer. You are bringing nature and protection together for your comfort. The cover is completely removable and washable to prevent odors.
Sweetnight has used an egg crate design with memory foam and gel to create optimal airflow for the coolest night's sleep. Using a gel memory foam will reduce the pressure placed on your joints and rid the pain from a hard mattress.
These mattress toppers come in a wide variety of sizes, but they all fit 8-18 inch mattresses with four easy to attach straps.
Materials:
The inner is made of a gel memory foam with an egg crate design.
Bamboo fiber and waterproof TPU cover
We love:
5-year Limited Warranty
Egg crate design will provide excellent ventilation.
Waterproof
Bamboo fibers provide hypoallergenic protection.
Fits mattresses 8-18 inches with four corner straps
To consider:
Currently Available On "Amazon"
---
3. Brookside Gel Infused Memory Foam Mattress Topper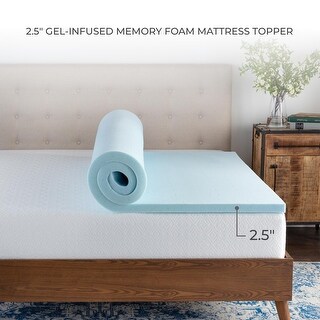 This beautiful and soft memory foam mattress topper will contour itself to your body without any worry about having your hip or shoulder pain persist. Allowing you to sink straight into a sleep where all of your pressure points are relieved, using premium memory foam works perfectly.
As your body is cradled and comforted, the gel-infused fibers will circulate air to keep you cool and your body temperature fully regulated. This mattress topper is completely breathable to prevent overheating and restless night's sleep. Choosing from either 2.5 or 3-inch thickness, you will have the plushest mattress topper for optimal comfort.
This can be used as additional support for your joints or even just to bring life back to your old mattress without having to buy a brand new mattress.
Materials:
The filling is made from memory foam and is infused with innovative gel.
We love:
Memory foam contours around the body
Gel technology to reduce body heat
CertiPUR-US Certified
5 or 3-inch thickness
Currently Available On "Overstock"
---
4. Sure2Sleep Gel Swirl Memory Foam Mattress Topper
Made in the USA, this memory foam mattress topper has been fully analyzed by independent laboratories to confirm that it meets or exceeds emissions, durability, and content standards.
This topper is a gel-infused memory foam that uses swirl technology to ensure it is in every fiber for a consistent result every night. Also, by combining this with the open cell technology Sure2Sleep was already using, this is one of the coolest mattress toppers, literally. It is keeping your bed at a neutral temperature all night long.
As it is a gel memory foam mattress topper, it allows for complete pressure point relief. You can go to sleep and allow your whole body to relax, and the mattress will contour itself to your individual needs. By distributing your weight evenly, you will feel light and pain-free.
Sure2Sleep really believe in the quality of their products, and to prove this, they include a 3-year full warranty. They also have a 30-night sleep guarantee, and you can return it during this time for a full refund if you are unhappy.
Materials:
The topper is made from premium quality foam combined with a cool gel swirl.
We love:
3-year full warranty included
Complete pressure relief
Captures and redirects body heat for neutral temperate
It comes in two thicknesses, 2 or 3-inches
To consider:
It does not include a protective cover or straps to attach to the mattress
Currently Available On "Amazon"
---
5. WEEKENDER 2 Inch Memory Foam Mattress Topper
To add additional support to your mattress, these 2-inches of memory foam will create the best environment for a side sleeper. While it is not the best memory foam mattress topper for side sleepers on this list, it certainly is one of the best. The memory foam used for this topper is of the utmost premium quality that will offer superior comfort in terms of support. The mattress topper will quickly mold to your body to allow for a personal shape that suits your body.
By using a ventilated memory foam, the mattress topper allows for air to circulate through the open cells and regulate your body temperature. A comfortable temperature will promote healthier joints, so to alleviate hip pain, mattress toppers need to be breathable and offer support.
Weekender provides a 3-year manufacturer's warranty that will cover any manufacturer defect.
Material:
We love:
Premium memory foam for best support and contouring
Ventilated open cells for breathability
3-year warranty against manufacturing defects
To consider:
It does not include a protective cover or straps
Currently Available On "Amazon"
---
6. Nelaukoko 2 Inch Memory Foam Mattress Topper
There is no greater feeling than waking up fully refreshed and ready to start the day. Nelaukoko will help you achieve this every night with their memory foam and gel mattress topper, designed to keep you cool and comfortable.
The gel memory foam mattress topper is designed to reduce your movements in the night by keeping your body temperature neutral and relieving your pressure points. Optimizing your comfort, you are less likely to move out of discomfort. In turn, this will also allow your joints to relax and disperse pent-up pressure fully. Allow the mattress topper to conform to your body, and watch the pain wash away as you slip into a deep slumber.
The gel is infused into the memory foam fibers to regulate your body temperature by promoting airflow and dispersing unnecessary heat. This will reduce your chances of overheating and allow for a night of much better REM sleep in the summer.
All Nelaukoko mattress toppers come with a 120-day trial so that you can be sure you love it before you fully commit. This is triple the length of the return period of any competitors. They also provide three years of support to ensure you get any help required should you encounter an issue.
Materials:
Gel-infused memory foam with a ventilated design
We love:
120-day trial with a full refund promise
Ventilated design to optimize airflow
Gel-infused memory foam contours to your body
Pressure relief
To consider:
It does not include a cover or straps
Currently Available On "Amazon"
---
7. KIREW Memory Foam 2 Inch Twin XL Mattress Topper
Available in various sizes and easily transported, you can use this for any of your beds or even help you go camping. The best memory foam mattress topper for side sleepers should be versatile and allow for all the necessary comfort without costing a fortune. The KIREW mattress topper is one of the cheapest options on this list but still has everything you need.
This 3-inch mattress topper provides support by contouring to your body and dispersing your weight evenly. This will help to align your spine and support your painful joints. It also uses gel-infused memory foam to regulate your heat during the night so you can fall into a deeper sleep without getting restless.
Rigorously tested, it is certiPUR-US certified for your peace of mind. KIREW includes a 120-day trial period during which you can return for a full refund providing you do not void the warranty. There is also a 3-year warranty to cover you against manufacturer defects.
Materials:
Gel-infused memory foam with ventilation holes
We love:
CertiPUR-US certified
Gel-infusion promotes air circulation and regulates body temperature
3-year manufacturers guarantee
Available in various sizes
To consider:
It does not include a cover or straps
Currently Available On "Amazon"
---
8. Crown Comfort Lavender Infused Mattress Topper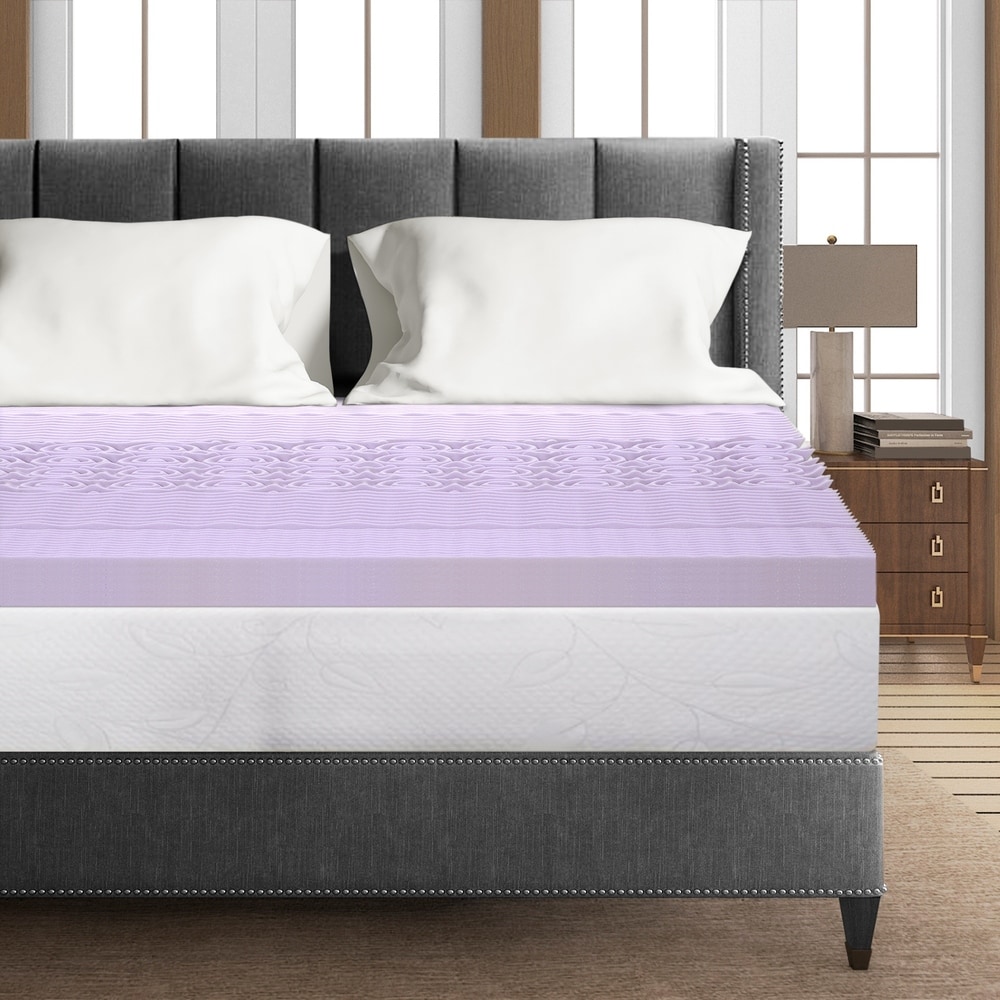 Lavender is a beautiful plant that has a scent capable of relaxing anyone. By infusing the fibers with lavender, the scent will slowly be released to calm your body and create a relaxing environment as you lay on it.
This 4-inch mattress topper is the biggest one out of all of the best mattress toppers for side sleepers, so you can sleep easy knowing you have the full support of quality. The memory foam has a ventilated design to allow air to flow freely between the fibers and cool your body down throughout the night. It also allows for any body heat to be dispersed away for a controlled temperature.
The memory foam will completely conform to your body and allow you to decompress your joints. This will alleviate pain and promote better spinal alignment and create a natural shape without a hard surface.
A 3-year warranty is included straight from Crown Comfort to help protect you from any manufacturer defects that could occur. Be sure to check your warranty card for any voidable offenses.
Materials:
The filling is made from a memory foam
The memory foam is lavender-infused
We love:
Memory foam filling for comfort and coolness
4-inch thickness
Lavender infused memory foam for a calming effect
CertiPUR-US Certified
3-year manufacturers warranty
To consider:
Lavender may not be suitable for anyone with allergies/hayfever
Currently Available On "Overstock"
---
FAQs
---
Conclusion
There are many fantastic mattress toppers options, but the best memory foam mattress topper for side sleepers is the HYLEORY Mattress Topper. Although the Sweetnight comes in a close second with its bamboo fibers.
While our recommendation would have to be the HYLEORY , you will be making the right decision if you chose any of the mattress toppers above. They all provide excellent relief against joint pain, and all have the right features to regulate your temperature throughout the night.
Sleep tight!
---
Fan of good quality sleeping and WordPress platform 🙂 Shopping is also my passion, that is why this article was created especially for you. Find out how you can sleep like a king and not overpay.